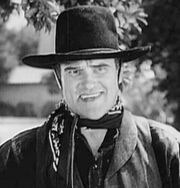 Werner Paul Raetzmann (1886–1948) American Performer and Actor. Werner Paul Raetzmann was one of seven children born to a German-born father and Wisconsin-born mother. He and one brother decided to change their last name to Richmond. Living in rural Wisconsin, he became an expert horseman as a young man, and this skill would later earn him roles in western movies. He had blue/gray eyes and brown hair, handsome, chiseled features and maintained an enviable physique. A Chicago census from 1910 gives his occupation as a traveling salesman of musical merchandise. Moving to New York City, Warner became a true pioneer of the American cinema, making his first films in 1912. By 1917 he was a regular in the New Jersey studios (Solax Studio in Fort Lee) of Maurice Tourneur. When the film industry moved to southern California, Richmond and his wife also moved to rural Toluca Lake with their only son. He was not a contract player, so he made films, silent and subsequently talking pictures, with every major and minor studio. Included in his many screen credits are short subjects and serials, such as 'Flash Gordon' and many westerns. For 34 years he was steadily employed as a screen actor. His co-stars included Carole Lombard, Pearl White, Mary Astor, Ben Lyon, Theda Bara, Dorothy Gish, Richard Barthelmess, Richard Dix, Hoot Gibson, Tex Ritter, ZaSu Pitts, Spencer Tracy, William Haines, Jason Robards, Sr., Frank Morgan, Gene Autry, John Wayne, William Boyd, Pola Negri and Gabby Hayes. In two different films he portrayed American patriot John Hancock. He made several films under the direction of John Ford, Karl Freund, King Vidor, W. S. Van Dyke, William A. Seiter, Lloyd Bacon, Ralph Ince, Albert S. Rogell, Raoul Walsh, Cecil B. DeMille and Harry Beaumont. He was often cast as a lawyer, judge, father, henchman, and district attorney. In his fourth decade of acting, he suffered partial facial paralysis after a nasty fall from a horse. Following a diligent regime of physiotherapy, he overcame his injury and returned to work in the Hollywood studios.
Community content is available under
CC-BY-SA
unless otherwise noted.