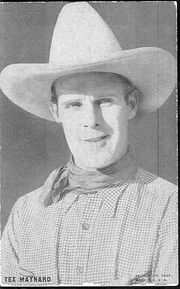 Kermit Roosevelt Maynard (1897–1971) American Stuntman, Actor and Performer. Kermit Maynard was born on 20 September 1897, Vevay, Indiana, USA and died on 16 January 1971, North Hollywood, California, USA. He had died from a Heart Attack. Stuntman and stand-in for his brother (cowboy hero Ken Maynard), Victor McLaglen, George O'Brien, Edmund Lowe and Warner Baxter during the late 1920s and early 1930s, he would eventually come to star in a series of minor westerns himself and later become a character player, often in the role of outlaw. In his early years, he worked for Hormel, the meat packing company. Former all-star athlete at Indiana University with letters in football, baseball and basketball even though he never did graduate. Once a representative for the Screen Actor's Guild. Tex Maynard had one son, William, born in 1943. His faithful horse was named "Rocky".
Community content is available under
CC-BY-SA
unless otherwise noted.