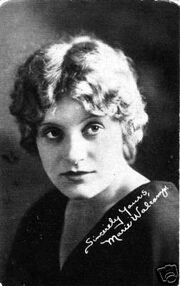 Marie Walcamp (1894–1936) American Actress and Writer. Marie Walcamp was born on July 27, 1894 in Dennison, Ohio. Dennison had a small population and was miles from Canton and Youngstown, the two nearest big cities in the state. Because of its size, the town didn't afford the type of opportunity of fame that Marie wanted. She began to dream of stardom early, as most young girls do, and when she had finished her formal education headed to the East Coast in search of acting jobs on the stage. While she found some work in New York, she was discovered and was given a role in 1913's "The Werewolf" on the silver screen when she was 19 years old. Marie would not be on the big screen again until "Coral" in 1915. The following year would be the busiest of her film career when Marie appeared in four productions. Unfortunately, the roles were not always good ones for her. Her counterparts always seemed to get bigger and better roles although Marie knew she could hold her own against the best of them. By the time the twenties rolled around, Marie was used less and less on the screen. Her final film was IN A MOMENT OF TEMPTATION in 1927. On November 17, 1936, while living in Los Angeles, California, Marie committed suicide from an overdose of medication. She was just 42 years old.
Spurs and Saddles
Edit
Western film series. Tempest Cody starred in nine films entitled "Tempest Cody".
Section heading
Edit
Write the second section of your page here.
Community content is available under
CC-BY-SA
unless otherwise noted.