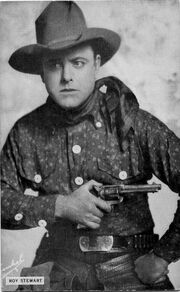 John Roy Stewart (1883 - 1933) American Actor and Writer. He was born on
17 October
1883
,
San Diego, California, USA
, tall in the saddle, and dark and handsome to boot, he may be little remembered today when compared to 
William S. Hart
,
Tom Mix
or
Hoot Gibson
, but cowboy hero Roy Stewart was arguably one of the best silent western stars. While touring with the famous Floradora Girls, Stewart entered films in the early 1910s in support roles until signing with Triangle in 1916 and emerging as a star. Known for his engaging, dimpled grin, he proved a solid and rugged hero and churned out during the course of his career hundreds of two-fisted two-reelers such as
The Learnin' of Jim Benton
(1917),
Cactus Crandall
(1918), which he co-wrote, and
The Sagebrusher
(1920), not to mention re-enacting a number of tales from the Old West and portraying such legendary figures as Buffalo Bill and Daniel Boone. Out of the saddle Stewart was quite at home in plush drama and served as a perfect leading man for the likes of
Lillian Gish
in House Built Upon Sand, The (1916),
Bessie Love
in
A Daughter of the Poor
(1917) and
Mary Pickford
in her classic silent
Sparrows
(1926). He starred in three film series called, "Red Saunders", "Tales of the Old West" and "Timber Tales". He was 6' 2", come the advent of sound, Stewart lost his footing and was relegated to support roles as a character actor. He continued working until his sudden death on
26 April
1933
, in Los Angeles, California of a heart attack in his home at the age of 49.
Red Saunders
Edit
Western/Comedy film series, starring Roy Stewart. The series only lasted four films.
Tales of the Old West
Edit
Western filme series, starring Roy Stewart. The series only lasted three films.
Community content is available under
CC-BY-SA
unless otherwise noted.