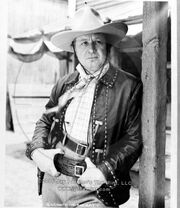 Gerard Montgomery Blue (1887-1963) American Circus Performer, Actor, Screenwriter, Stuntman, Second Unit DStalwart, durable Monte Blue, a romantic leading man of the silent days, was born January 11, 1887, as Gerard Monte Blue. Various sources have reported his first name as George or Gerald, but, again, in his mother's application, it is spelled Gerard. His father was killed in a car crash when Monte was eight and his mother could not support five children. He was admitted (along with another brother) to the orphanage at that time. There he built up his physique playing football. At one time or another the able-bodied gent was a railroader, a fireman, a coal miner, a cowpuncher, a ranch hand, a circus rider, a lumberjack and, finally, trekking west, he became a day laborer for
D.W. Griffith
's Biograph Studios.
Blue eventually became a stuntman for Griffith and an extra in The Birth of a Nation (1915), which was his first film. Griffith took him in and made him an assistant on his classic epic Intolerance: Love's Struggle Throughout the Ages (1916), where he earned another small part. Gradually moving to support roles for both Griffith and Cecil B. DeMille, Blue earned his breakthrough role as "Danton" in Griffith's Orphans of the Storm (1921) with sisters Lillian Gish and Dorothy Gish. He rose to stardom as a rugged romantic lead opposite Hollywood's top silent stars, among them Gloria Swanson, Clara Bow and Norma Shearer. He made a relatively easy transition into talkies as he had a fine, cultivated voice, but, at the same time, lost most of his investments when the stock market crashed in 1929. By the 1930s the aging star had moved back into small, often unbilled parts, continuously employed, however, by his old friend DeMille and Warner Bros. At the end of his life he was working as an advance man for the Hamid-Morton Circus in Milwaukee. He died of a coronary attack complicated by influenza in 1963.irector, Assistant Director. Once saved a chorus girl (Wanda Stewart) from serious injury by tearing her gown off after it had accidentally caught on fire during a stage performance in Seattle.
Section heading
Edit
Write the first section of your page here.
Section heading
Edit
Write the second section of your page here.
Community content is available under
CC-BY-SA
unless otherwise noted.