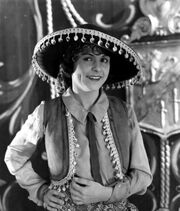 Louise Escovar (1901-1981) American Actress. Louise Lorraine's small stature and delicate beauty seemed hardly the qualities to be desired in a serial heroine, but she starred in 11 of the physically demanding, action-filled cliffhangers, and showed as much spirit as, and in some cases more than, many of her colleagues in that genre. Louise's entry into the film industry came about when a photography salesman knocked on the door of the suburban Los Angeles home she lived in with her widowed mother and five siblings. The 13-year-old Lorraine answered it, and the salesman was so impressed by her look and demeanor that he told her mother she should be in the movies, and he had a contact at the Ince Studio who could arrange it. At first, Louise's mother refused to let her daughter enter the film industry but eventually gave in. Louise started out in two-reel comedies for independent studios, and then alternated among Universal, MGM and Warner Bros. She left the screen after making her second sound movie in 1930, ostensibly to devote her time to her husband and two children. She died in 1981.
Section heading
Edit
Write the first section of your page here.
Section heading
Edit
Write the second section of your page here.
Community content is available under
CC-BY-SA
unless otherwise noted.