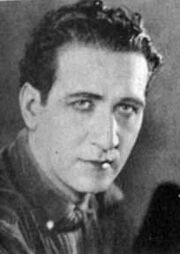 Lester H. Cuneo (1888–1925) American  Actor, Executive Producer and Producer. A stage actor since his early teenage years, Lester Cuneo made his first film, a comedy short, in 1910. It was quite successful, and he soon began appearing in a series of comedy shorts, which he also directed. Tiring of comedies, he decided to make himself a cowboy star and turned to making westerns. He was also successful in that endeavor, and soon became one of the country's first western stars. Unlike many other cowboy actors, however, Cuneo also played dramatic parts in other pictures. His career was interrupted by World War I, and after completing his military service, he returned to Hollywood and resumed his career in Westerns. He formed his own production company and made his own films, and his character was known as "The Smiling Daredevil." His pictures were initially successful, but their success didn't last long. Despondent over the breakdown of his marriage and the downhill slide of his film career, Lester Cuneo took his own life with a gunshot to the head.
Section heading
Edit
Write the first section of your page here.
Section heading
Edit
Write the second section of your page here.
Community content is available under
CC-BY-SA
unless otherwise noted.