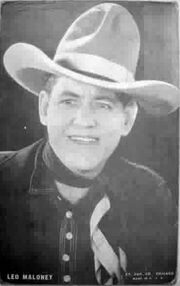 Leo Daniel Maloney (1888–1929) American Stuntman, Actor, Presenter, Screenwriter, Producer, Executive Producer, Co-Producer and Director. Maloney was born in Santa Rosa, California and built the "Leo Maloney Studio" in the San Bernardino Mountains of Southern California. Maloney's final film was one of the first sound pictures, 1929's "Overland Bound". While at a party in Manhattan to celebrate the completion of that picture, Maloney suffered a fatal stroke which was brought on by acute and chronic alcoholism.
Alternate Names: L.D. Maloney | Lee D. Maloney | Leon Maloney | Leo Maloney
The Range Rider
Edit
1."His Own Law" (1922) 2."Come and Get Me" (1922) 3."Deputized" (1922) 4."Rough Going" (1922) 5."The Bar Cross War" (1922) 6."The Drifter" (1922) 7."His Enemy's Friend" (1922) 8."One Jump Ahead" (1922) 9."Here's Your Man" (1922) 10."Under Suspicion" (1923) 11."Border Law" (1923) 12."Smoked Out" (1923) 13."Lost, Strayed or Stolen (1923) 14."Double Cinched" (1923) 15."Partners Three" (1923) 16."The Extra Seven" (1923) 17."When Fighting's Necessary" (1923) 18."100% Nerve" (1923) 19."Wings of the Storm" (1923) 20."The Unsuspecting Stranger" (1923) 21."Hyde and Zeke" 1923) 22."Tom, Dick and Harry" (1923) 23."Steel-Shod Evidence" (1923) 24."Yellow Gold and Men" (1923) 25."In Wrong Right" (1923) 26."Warned in Advance" (1926)
Community content is available under
CC-BY-SA
unless otherwise noted.