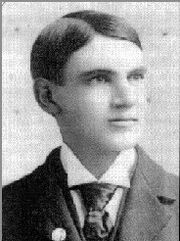 Jesse Edward James (born August 31, 1875 – March 26, 1951), commonly known as Tim, was the only surviving son of American outlaw
Jesse Woodson James
.
[1]
He was born in
Nashville, Tennessee
during the height of Jesse James' career as an outlaw. His mother was
Zerelda
, Jesse James' wife and his first cousin. He had two brothers - twins Gould and Montgomery James (born February 28, 1878). They died in infancy.
The Great Son of Jesse James
Edit
James was named after his father and Major John Newman Edwards. He went by the name of Tim Edwards in his youth to conceal his relationship. After his father's death Jesse James, Jr. and his family lived in Kansas City and were taken under the wing of Thomas T. Crittenden, Jr., the son of Governor Thomas Theodore Crittenden, who had signed what would become the death warrant of the outlaw Jesse James. In 1898 Jesse was arrested, and stood trial in 1899, for the robbery of a Missouri Pacific train, but was acquitted. [2]James married Stella Frances McGowan (Feb 27, 1882 – Jan 1, 1971) on January 2, 1900 in the parlor of his mother's home, as she was too sick to attend the wedding. The couple had four daughters. Mr. and Mrs. James moved to Los Angeles California, in the 1920s, where for a time they ran a restaurant called "The Jesse James Inn", and remained in California until his death in 1951.
The Actor
Edit
Following his acquittal for train robbery, James wrote a book, Jesse James, My Father, which was published in 1899. He owned a pawn shop in Kansas City while studying law. In 1906 James passed the Bar exam in Missouri, and opened a law practice in Kansas City. He made a couple of silent westerns.
Community content is available under
CC-BY-SA
unless otherwise noted.