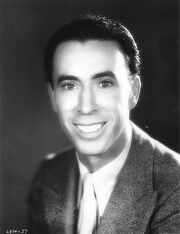 George Chandler (1898 - 1985) Actor. After military service during the First World War, Chandler studied at the University of Illinois, financing his studies by playing jazz violin in a band. During the early 1920's, he returned to the vaudeville circuit and began in films from 1928. Most of his early efforts were short one- and two-reel comedies, arguably his best being The Fatal Glass of Beer (1933) with W.C. Fields. While he mostly appeared in comedy and had countless bit parts, he later proved that he could handle meatier assignments, such as the simple-minded husband of Ginger Rogers, Amos, in Roxie Hart (1942). George was a protege of director William A. Wellman , who used him in twenty of his films.
On television, he made his mark as the jovial, well-remembered Uncle Petrie in Lassie (1954). He also had many good guest spots in other series, a particularly enjoyable one being the old man who sells a haunted Model A to dubious second-hand car dealer Jack Carson(with interesting results) in The Twilight Zone (1959) episode 'The Whole Truth' (1961). Prior to replacing Ronald Reagan as president of the Screen Actor's Guild, Chandler had been treasurer for twelve years (1948-60).
Tenderfoot Thriller
[
]
Western film series, starring George Chandler. It last 12 films.