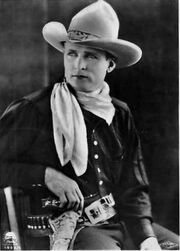 Frederick Clifton Thomson (1890-1928) American Stuntman, Actor and Technical Advisor. All but forgotten today, Fred Thomson was a silent movie westerner who at one time rivaled 1920s heroes
Tom Mix
and
Hoot Gibson
in popularity. Unlike the early, myth-inducing demise of a
Rudolph Valentino
or
Jean Harlow
, Fred's untimely death of tetanus prevented the actor, who was at one time billed "The World's Greatest Western Star," from creating a durable Hollywood legacy. Christened Frederick Clifton Thomson, he was born in Pasadena, California, in 1890 and proved a natural athlete, playing football at Occidental College in Los Angeles, and then at Princeton Theological Seminary, and breaking all sorts of various records while a student. Initially interested in the ministry, he became a pastor in both Washington, DC, and in Los Angeles, and subsequently married his college sweetheart, Gail Jepson, in 1913. Following her tragic death of tuberculosis in 1916, he left his fellowship and enlisted in the military.
During his duty as a serviceman, he served as a technical adviser for the film Johanna Enlists (1918), a Mary Pickford war feature. It was through Pickford that he met his second wife, pioneer screenwriter/director Frances Marion. They married in 1919 following his WWI overseas duty as an Army chaplain. Initially interested in directing, he ended up standing in front of the camera for one of Frances' films Just Around the Corner (1921) when an actor failed to show up for a shoot. The movie was a hit, and the handsome, highly appealing Fred was signed. Following a co-starring role in another Pickford movie, The Love Light (1921), which was also directed and written by Frances, Fred was off and running with his own action serial The Eagle's Talons (1923), in which he performed his own stunts. Over the years, he provided heroics in such oaters as The Dangerous Coward (1924), Ridin' the Wind (1925), The Lone Hand Texan (1924) and the title role in Lone Hand Saunders (1926). Towards the end of his career, he was seen playing the legendary Jesse James and Kit Carson. With his cowboy reputation solidified alongside faithful horse Silver King, Fred became the No. 2 box office star for 1926 and 1927.
In 1928, the unthinkable happened. Fred, who was in his movie prime at age 38, was just making the transition into talkies. He apparently broke the skin of his foot stepping on a nail while working at his stables. Contracting tetanus, which the doctors initially misdiagnosed, he died in Los Angeles on Christmas Day in 1928. His wife and two young sons survived him. He rode a horse named "Silver King".
Section heading
Edit
Write the first section of your page here.
Section heading
Edit
Write the second section of your page here.
Community content is available under
CC-BY-SA
unless otherwise noted.