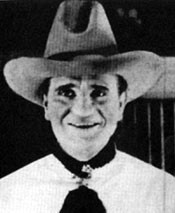 William Smith (1878-1961) American Actor. Boston-born Franklyn Farnum was on the
vaudeville
stage at the age of 12 and was featured in a number of theatre and musical productions by the time he entered silent films near the age of 40. He appeared to be at his most comfortable in the saddle, his career dominated mostly by westerns. Some of his more famous films include the serial
Vanishing Trails
(1920) and features
The Clock
(1917),
The Firebrand
(1922),
The Drug Store Cowboy
(1925) and
The Gambling Fool
(1925). In 1925 he left films, but returned five years later at the advent of sound, only to find himself billed much further down the credits, if at all. He continued on, however, in these obscure roles well into the 1950s. Largely forgotten today, he is not related to silent actors and brothers
Dustin Farnum
and William Farnum. One of his three wives was the ill-fated
Alma Rubens
, to whom he was briefly married in 1918. Farnum passed away from cancer in 1961.
Community content is available under
CC-BY-SA
unless otherwise noted.