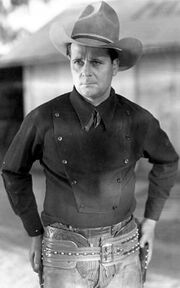 Edmund Fessenden Cobb (1892–1974) American Actor. Son of William Henry Cobb (1860-1909) and Edwinna (Eddie) Ross (1862-1945), was the grandson of Edmund Gibson Ross (1826-1907, Governor of the Territory of New Mexico and the Senator from Kansas credited by many as having cast the deciding vote in the impeachment trial of President Andrew Johnson). Edmund F. Cobb's parents ran a photography studio in Albuquerque, New Mexico, and some photographs of Edmund F. Cobb dressed as a cowboy (one dated December 1911), attired in a Civil War-era soldier's uniform, and standing next to a 1920s/1930s-style automobile are in the photo archive collection at the Museum of New Mexico, Palace of the Governors. Edmund Fessenden Cobb had two sisters, Susan Ross Cobb (1894-1987) and Daphne M. Cobb (1898-1928), and a brother, Wilfred B. Cobb (1901-1982). Edmund F. Cobb married first wife,
Helen Hayes
, daughter of Charles T. Hayes and Martha B. Marshall, about 1914, and their daughter, Eddie Marie Cobb (1915-1969), was born in Illinois. In 1920, Edmund and Helen were living in Denver, Colorado, and listed their occupations as "Actor" and "Actress," in "Motion Pictures." Edmund Cobb and Helen Hayes appeared together in
A Rodeo Mixup
(1924) and
Riders of the Range
(1923). Edmund and Helen divorced when their daughter was about 10 or 12 years old, and both remarried. Helen's second marriage was to Mr. Jackson, as his second wife, and Helen died about 1932. Edmund F. Cobb's second wife, Vivian, was born January 16, 1894, in Wisconsin, and both died at the Motion Picture and Television Hospital in 1974. He died of a heart attack.

Alternate Names: Edmind F. Cobb | Edmond Cobb | Edmund F. Cobb | Edward C. Cobb | Edward Cobb | Edwin F. Cobb | Edwin Cobb | Ed Cobb | Hector A. Cobb | Edmund F.
The Forest Ranger
Edit
1."Riders of the Woods" (1928) 2."The Boundary Battle" (1928) 3."The Fighting Forester" (1928) 4."The Scrappin' Ranger" (1928) 5."The Claim Jumpers" (1929) 6."In Line of Duty" (1929) 7."Beyond the Smoke" (1929) 8."A Rider of the Sierras" (1929) 9."Dodging Danger" (1929) 10."Perilous Paths" (1929) 11."The Danger Line" (1929) 12."Just in Time" (1929)
Community content is available under
CC-BY-SA
unless otherwise noted.