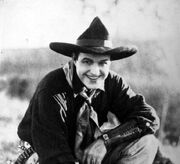 Dustin Lancy Farnum (1874–1929) American Actor and Producer. American leading man of silent pictures who specialized in Westerns. His mother and father were, respectively, a singer and an actor, and he and his younger brother
William Farnum
were introduced to the theatre at an early age. Raised in Maine, Dustin attended the East Maine Conference Seminary, but left school to go on the stage at the age of fifteen. With his brother, he formed a
vaudeville
act consisting largely of tumbling and wrestling. He spent several years touring in stock companies before making a great success in the play "Arizona" in New York. After a number of
Broadway
hits, he went to Cuba in 1913 to star in a film,
Soldiers of Fortune
(1914). Soon thereafter,
Cecil B. DeMille
gave Farnum the leading role in the film version of one of Farnum's
Broadway
hits, "The Squaw Man." He followed this smash hit with a number of film versions of plays he had starred in on
Broadway
. His brother William had himself become a big star in pictures, and the two of them signed contracts with the Fox Film Corporation. Although Dustin Farnum played a wide variety of roles, he tended toward Westerns and became one of the biggest stars of the genre. At the age of fifty-two, Farnum retired from films and, but for a few stage roles, lived quietly with his third wife, actress
Winifred Kingston
for three years, until his death in 1929 from kidney failure. He rode a horse named "Buck".
Section heading
Edit
Write the first section of your page here.
Section heading
Edit
Write the second section of your page here.
Community content is available under
CC-BY-SA
unless otherwise noted.