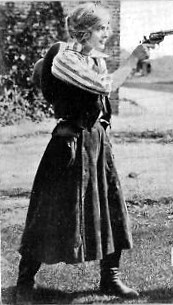 Dorothy Mackaill (1903-1990) English Actress. Dorothy Mackaill was 11 when her parents separated and, although she lived with her father, she had always wanted a career in the theater. As a rebellious teenager Dorothy ran away to London, where she finally persuaded her father to pay for her board and lessons. Her first job was in the chorus, then she went to work in Paris. There she met a
Broadway
choreographer who got her a job with the Ziegfeld Follies in New York. At the follies Dorothy became friends with 'Marion Davies (I)', who was also a Follies star.
By 1921 Dorothy was making movies, but it would take three years before she became a star with The Man Who Came Back (1924). Other successful films included Chickie (1925), Joanna (1925) and The Dancer of Paris (1926). Her career continued into the beginning the sound era, and her silent film The Barker (1928) was reshot as a part-talkie. The industry was in upheaval during that transitional period, and Doroty's contract with First National was not renewed when it expired in 1931. Becoming a free agent, Dorothy made films at Columbia (Love Affair (1932)), Paramount (No Man of Her Own (1932)) and MGM (The Chief (1933)). Things did not improve the next year, and her final three films were for quickie studios, Cheaters (1934) for low-rent Liberty Pictures being the last of them. With that, Dorothy retired from pictures and took care of her invalid mother. She died of kidney failure.
Section heading
Edit
Write the first section of your page here.
Section heading
Edit
Write the second section of your page here.
Community content is available under
CC-BY-SA
unless otherwise noted.