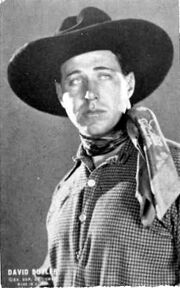 David Butler (1894-1979) American Actor, Writer, Producer, Exective Producer and Director. A survivor of the 1906 San Francisco earthquake, which happened when he was 11 years old. He said the quake shook the city so violently and for so long that he remembered his father saying, "I think this is the end. Get down and pray". He and his family escaped uninjured. Directed 2 actors to Oscar nominations:
Stuart Erwin
(Best Supporting Actor,
Pigskin Parade
(1936)) and
Walter Brennan
(Best Supporting Actor,
Kentucky
(1938)). Brennan won an Oscar for his performance in Butler's film.
The son of a stage director, Butler was educated at Lowell High school, then attended Hitchcock Military Academy and Stanford University. He began in the film business as an actor in 1910, appearing in films by top directors like D.W. Griffith, Frank Borzage and John Ford. He helmed his first picture in 1927, and, over the next three decades, acquired a reputation as a solid, dependable studio director, displaying a particular penchant for turning out light comedyies and musicals. Butler spent the first phase of his career (1927-38) at Fox, where he handled popular family fare with stars like Will Rogers or Shirley Temple. The second phase took place at Warner Brothers (1943-44; 1946-56), where he enjoyed his biggest successes directing Bob Hope comedies (Road to Morocco (1942), The Princess and the Pirate (1944)) and Doris Day musicals (Tea for Two (1950), Lullaby of Broadway (1951), Calamity Jane (1953). He passed away on June 14, 1979 while he was living at, Arcadia, California. He had heart failure.
Section heading
Edit
Write the first section of your page here.
Section heading
Edit
Write the second section of your page here.
Community content is available under
CC-BY-SA
unless otherwise noted.