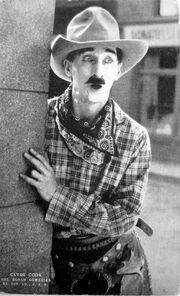 Clyde Wilford Cook (1891 - 1984) Austrailian Actor, Performer, Writer, Producer and Director.Diminutive Australian-born silent comic, the son of an engine driver. Clyde Cook earned his sobriquet, 'The Kangaroo Boy', because of his rubber-limbed elasticity. He had been on stage from the age of six, trained as an acrobatic dancer and performed on the Tivoli circuit in his native country, and, later, with the Folies Bergere in Paris. He was back in Australia with
J.C. Williamson
in 1916, appearing in musical comedy and revues. Three years later, he made his American
debut
in the Ziegfeld Follies on
Broadway
and then became the star comic at the New York Hippodrome. Noted for his abilities as a contortionist, he was billed as the Australian "Inja Rubber Idiot". Within a year, he was spotted by Fox talent scouts and signed to appear in the 'Sunshine Comedy' series.
After moving to California, Clyde developed his own unique screen image, which included a huge paintbrush moustache (a prototype of which he had sported since 1917) and a completely deadpan expression. Not as distinctive in his comic style as Charles Chaplin or Buster Keaton, he never quite made the first rank as a star, though he was immensely popular as a key supporting player in two-reel comedies. In 1925, he joined Hal Roach, where he did some of his best work, which included the Stan Laurel-directed Wandering Papas (1926). In this, he played the cook for a railroad construction crew, with Oliver Hardy as a tough foreman. In the late 20's, Cook appeared in Roach's 'Taxi Boys' series and, with Warner Brothers, as comic relief in several features, often opposite Louise Fazenda.
His Australian accent proved popular enough to facilitate a smooth transition to talking pictures. This allowed Clyde to continue his career, albeit mainly in dramatic feature films, such as The Docks of New York (1928), The Taming of the Shrew (1929) and The Dawn Patrol (1930). He even got to play an Australian in The Man from Down Under (1943), but, by then, his parts had become little more than walk-ons and bits. He retired after his one-day effort in the John Wayne starrer Donovan's Reef (1963), and died twenty-one years later, in 1984, of arteriosclerosis.
Section heading
Edit
Write the first section of your page here.
Section heading
Edit
Write the second section of your page here.
Community content is available under
CC-BY-SA
unless otherwise noted.