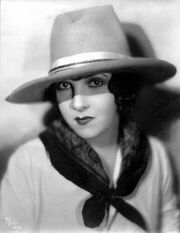 Carmelita Geraghty (1901-1966) American Actress. Daughter of screenwriter Tom Geraghty and sister of writers Maurice and Gerald Geraghty, Carmelita was a graduate of Hollywood High School where she was in charge of the school calendar. Voted a WAMPAS Baby Star in 1924, she spent most of her career as a leading lady, playing with Reed Howes and Estelle Taylor's husband, former heavyweight champion Jack Dempsey. With the advent of sound, Carmelita's star dimmed and she went on to play the 'other woman' in various poverty row movies. Retiring in the mid-1930s, she married Carey Wilson and later became an accomplished artist. During the last years of her life, her artwork was displayed at the "Weil Gardens" in Paris. She died of a heart attack.
Section heading
Edit
Write the first section of your page here.
Section heading
Edit
Write the second section of your page here.
Community content is available under
CC-BY-SA
unless otherwise noted.