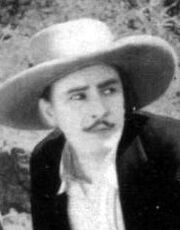 Elia Bulakh (1899–1979) Russian Actor. He was a Cossack in the army of Czar Nicholas when the Russian revolution broke out in 1917. Captured by Bolshevik troops in Siberia, he was thrown in a cell with eight other white Russian soldiers to await execution. His cellmates eventually died, and he was given a half-empty can of beef as his last meal before he was to be shot. He broke off the lid, sharpened it, sneaked up behind a guard, cut his throat with it and escaped. He made his way to China, and then to the U. S., where he settled in Los Angeles and eventually became an actor. He also worked as a Los Angeles Deputy Sheriff. Upon his death, his remains were interred at Cypress View Mausoleum and Crematory in San Diego, California.
Alternate Names: William Barrymore | Kit Carson
Section heading
Edit
Write the first section of your page here.
Section heading
Edit
Write the second section of your page here.
Community content is available under
CC-BY-SA
unless otherwise noted.