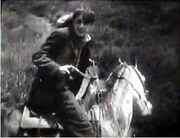 Robert Emmet Harron (1893-1920) American Art Department Props, Cinematographer, Camera and Electrical Department Grip, Actor and Assistant Director. Today screen actor Bobby Harron is one of Hollywood's forgotten souls, although he was a huge celebrity in his time and graced some of the silent screen's most enduring masterpieces. A talented, charismatic star in his heyday, Bobby had everything going for him but died far too young to make the longstanding impression he certainly deserved.
Bobby was born one of nine children in New York City to an impoverished Irish-American family. In order to put food on the table, Bobby started out quite young looking for work. At age 13 he found a job working for the American Biograph Studio on East 14th Street as a messenger boy and was given a couple of film bits for added measure. Within the next year director D.W. Griffith had joined the company and the sensitive, highly photogenic Bobby caught the legendary director's eye almost immediately.
Bobby subsequently had leading roles in many of Griffith's classic silents, usually playing characters that were much younger and much more naive than in real life. He appeared opposite other legendary female stars who also played "young-ish" roles, notably Mae Marsh and Lillian Gish. Bobby made indelible impressions in The Birth of a Nation (1915), Intolerance: Love's Struggle Throughout the Ages (1916), An Old Fashioned Young Man (1917), Hearts of the World (1918), A Romance of Happy Valley (1919) and True Heart Susie (1919).
Bobby had become such a sensation that in 1920 he entertained thoughts about leaving the Griffith fold and forming his own company. A fatal, self-inflicted bullet wound to the left lung in September of 1920 ended those dreams before they ever got off the ground. Although it was listed as an "accidental" death, Hollywood rumor has it that a despondent Bobby killed himself in a New York hotel room on the eve of the premiere of Griffith's new film Way Down East (1920). It seems Bobby was devastated after being passed over by Griffith for the lead role in favor of the director's new protégé, Richard Barthelmess. Whatever the truth may be, Bobby's death remains a tragic mystery. Ironically, Bobby had two lesser known sibling actors who also died quite young. Tessie Harron (1896-1918) died at age 22 of Spanish influenza, and John Harron (1904-1939), nicknamed Johnnie, collapsed and died of spinal meningitis at age 35. Both appeared unbilled in Hearts of the World (1918) with Bobby. He died from an accidental gunshot wound.
Section heading
Edit
Write the first section of your page here.
Section heading
Edit
Write the second section of your page here.
Community content is available under
CC-BY-SA
unless otherwise noted.